Written by Eminah Quintyne.
Ooooh, Mami! (umami) estas Caliente! Shiitake, oyster, king trumpet, chanterelle, lion's mane, chestnut, it's a wonder how a fungus can create such spectacular flavors.  It's more than a party in your mouth and something like the flavor experience of silky fireworks if that were a thing.
There are five basic well-known tastes. Mushrooms are pegged for having umami or "savory" taste. In addition to sweet, salty, bitter, & sour in 1908 Japanese scientist, Dr. Kikunae Ikeda observed a distinctive flavor in a bowl of kombu dashi (kelp broth) and named it "umami".  In Japanese umami means "essence of deliciousness"1. Umami is the fifth well-known taste. Dr. Ikeda also discovered that the savory element of umami flavor is attributed to the presence of non-essential amino acid glutamate1 (glutamic acid). In recent years there has been a lot of talk about the sodium salt of glutamate, monosodium glutamate (MSG). MSG is used as a food additive. Normal dietary intake of glutamate within whole foods is not associated with adverse health effects2. Glutamate naturally occurs in many foods like fresh tomatoes, broccoli, onions, parmesan cheese, walnuts, green tea, eggs, salmon, steak, asparagus, etc.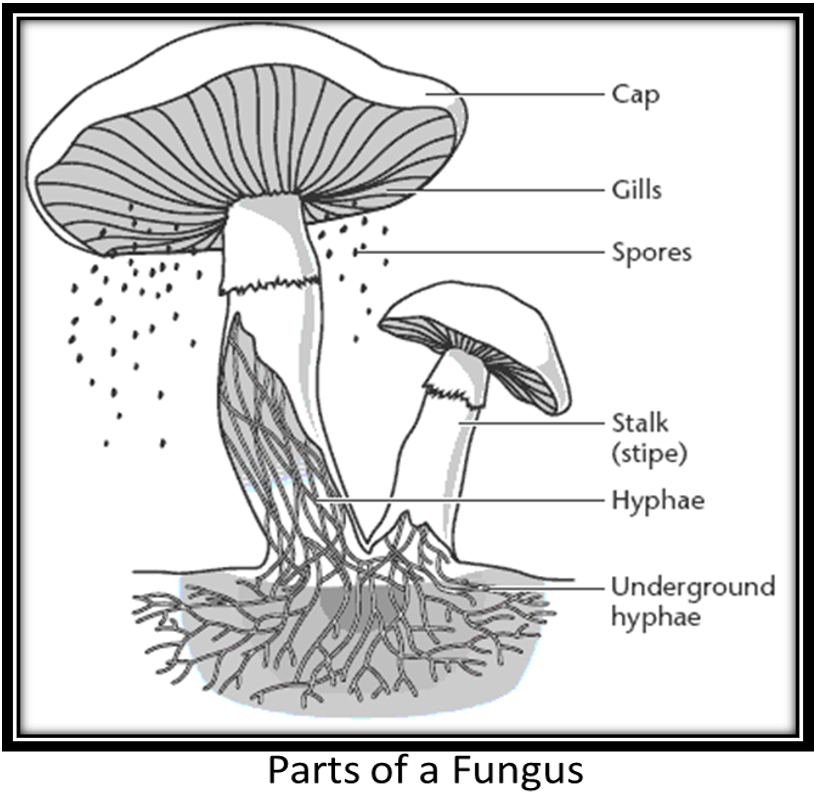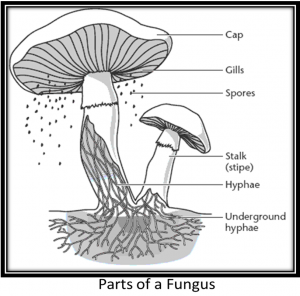 Although eaten like a vegetable, mushrooms grow very differently than vegetable plants. In fact, mushrooms don't grow like plants at all because they are a fungus. Fungi are classified in their own kingdom separate from plants. Although similar in some ways plants and fungi are genetically different. It is estimated there are 140,000 kinds of mushrooms; 2000 of them are edible3 and safe. Mushrooms grow from spores in mycelium. Spores are a reproductive cell that gives rise to fruiting mushrooms analogous to seeds that give rise to harvest from plants. Mature spores fall from gills found underneath mushroom caps and germinate or form into mycelium. Mycelium is made out of a network of branching fungal threads called hyphae. These fungal threads or "hyphae" are actually thin cells protected by rigid structural support called chitin present within fungal cell walls. Hyphae look like a spider web structure. You can think of it like a spider web spun with thin strings of hard plastic. It's interesting!
Many mushroom farmers grow mushrooms in a controlled environment. Depending on the desired mushroom variety, different mediums like hardwood sawdust, wood chips, straw, coffee grounds or cardboard, etc., are required as substrates. Mycelium uses substrate for energy and nutrition. Pointing out a key difference between fungi and plants. Plants make their own food (nutrition) using water and minerals from soil and convert those micronutrients into energy using sunlight (photosynthesis). Fungi absorb nutrients from other elements in the environment like sawdust or wood chips. Mushrooms always grow from a network of mycelium and can be foraged outdoors on logs, tree trunks, from the ground, or grown indoors in controlled environments.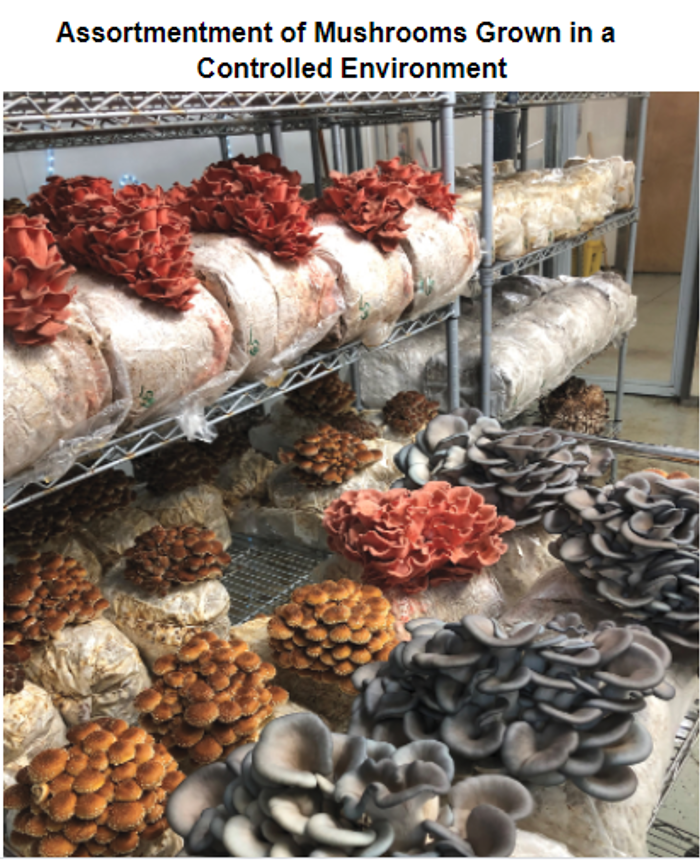 Mushrooms taste best when purchased from a local source. Upon purchase, you want to choose firm, unblemished caps without wet spots or mold. Unless locally sourced there is nothing in the grocery store that compares in quality to the crisp and regal attributes of fresh mushrooms. If you're interested in foraging mushrooms. It's important you are 100% confident in the type of mushroom picked, cut wild mushrooms from the base, and never eat them raw. All mushrooms are not safe for consumption and there are those which are poisonous. Non-poisonous mushrooms can be contaminated by outdoor ailments, pesticides, or chemicals. There are several apps with pictures to help foragers become familiar with the various types of mushrooms.
I want to express the importance of enjoying your food. With particular diets or medical conditions this may be a challenge, but not impossible. Seasonings are added to food to create or enhance flavor. Mushrooms act like a seasoning in that they are full of their own flavor, but also take on new flavors extremely well. Most seasonings include salt, sugar, fruit, spices, other vegetables, or fats like (oil or dairy i.e butter/heavy cream) to enhance flavor. Fun facts on seasoning:
Spice + Herb = Seasoning
Typically ground into powder a spice is any part of a plant that is not a leaf like seeds, bark, roots, or flowers
Herbs are the aromatic leaves of plants
Taste + Smell + Mouthfeel = Flavor
Flavor is the overall impression of food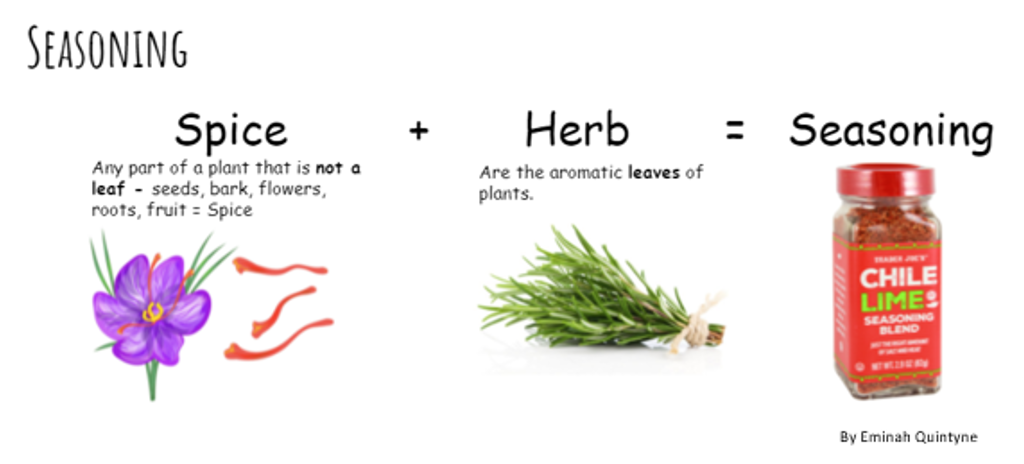 Gourmet mushrooms are a culinary treasure and exclusive in the sense they are grown on small scales, rare, and dynamic in flavor.
Noteworthy Health Benefits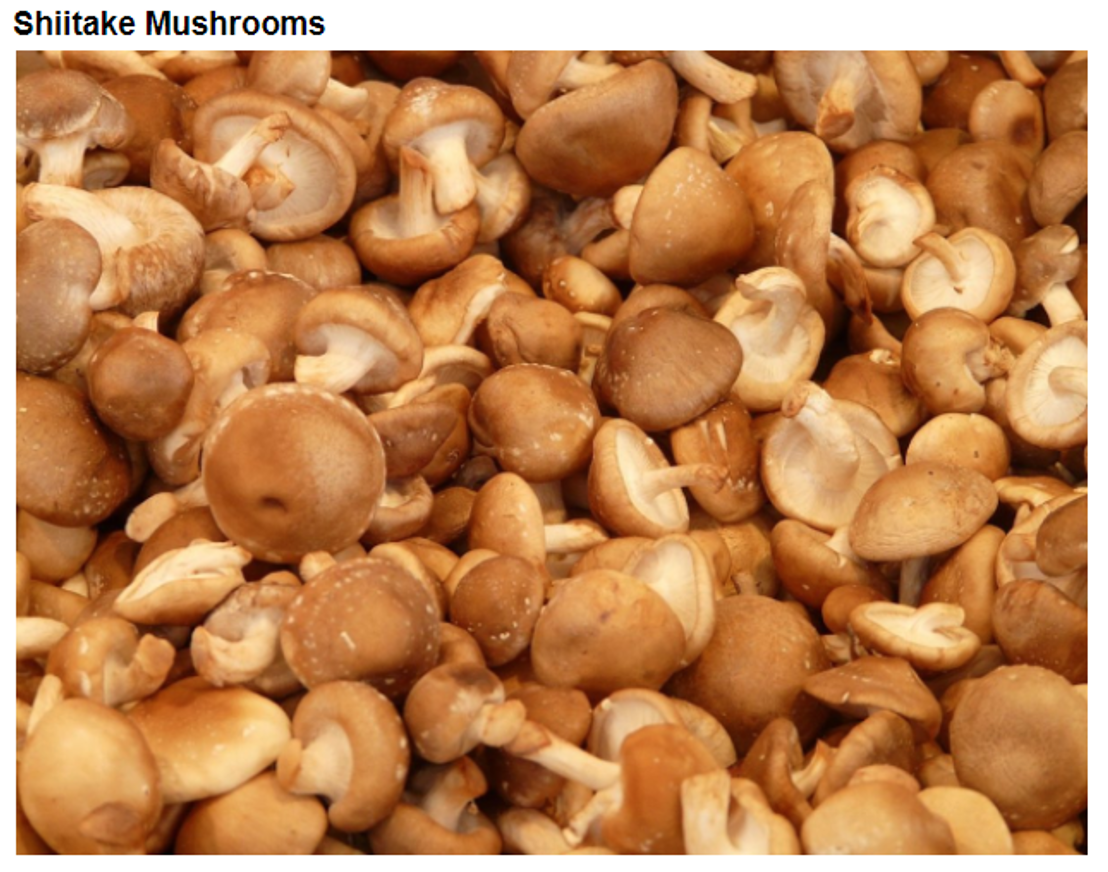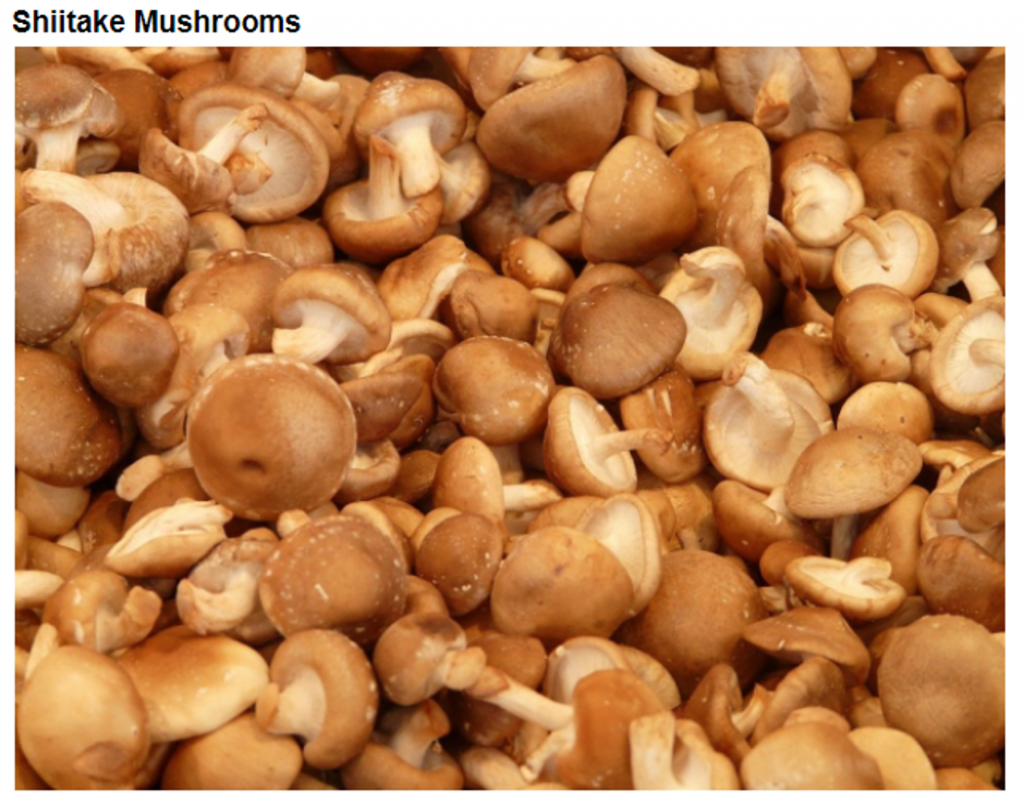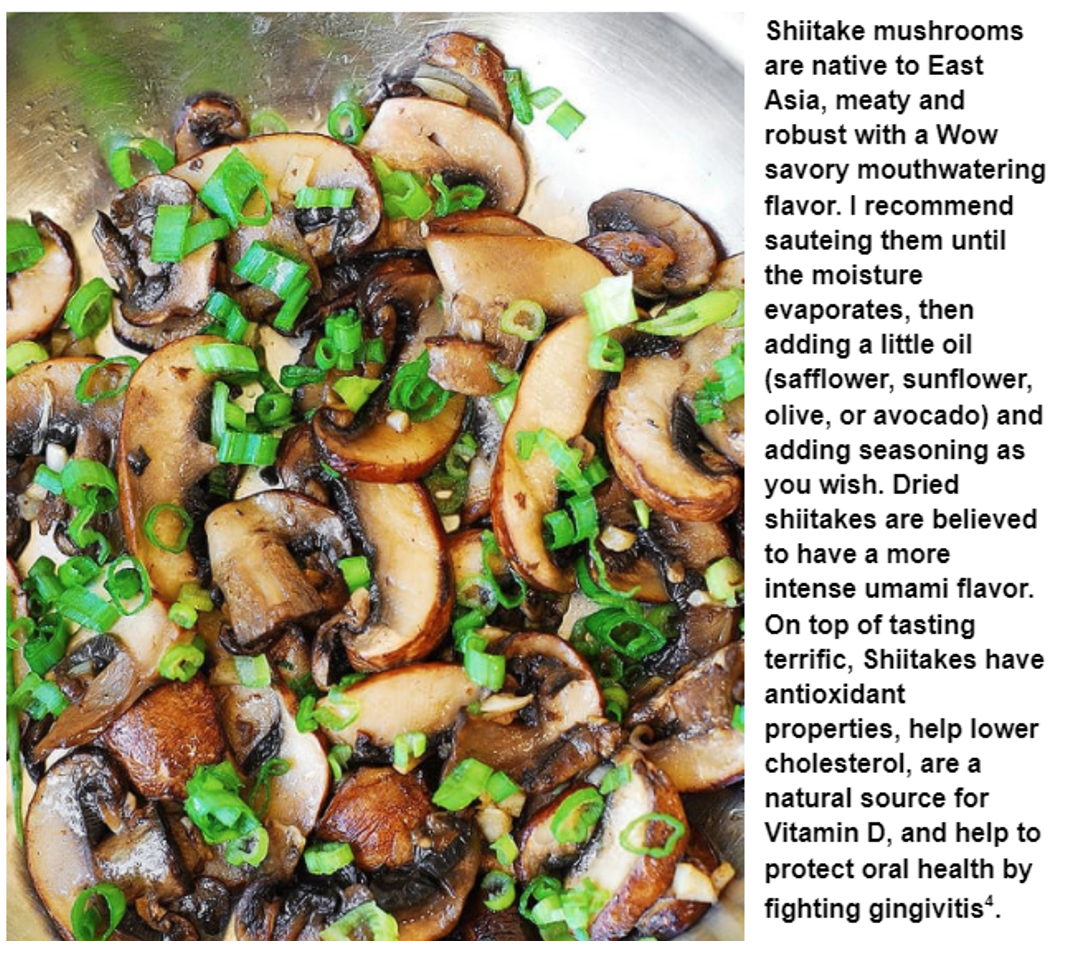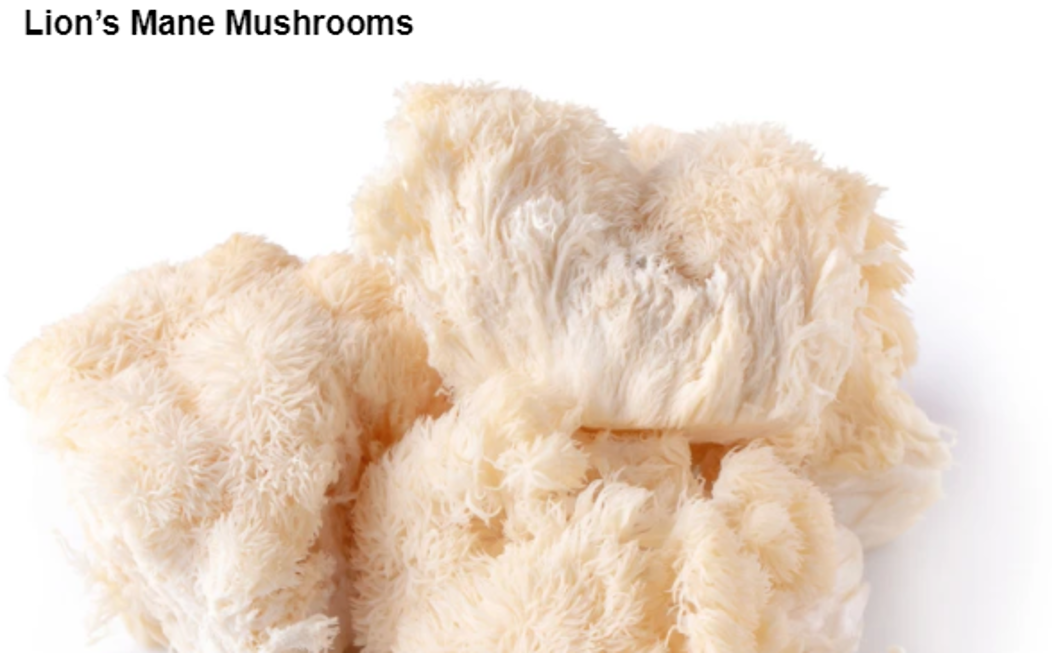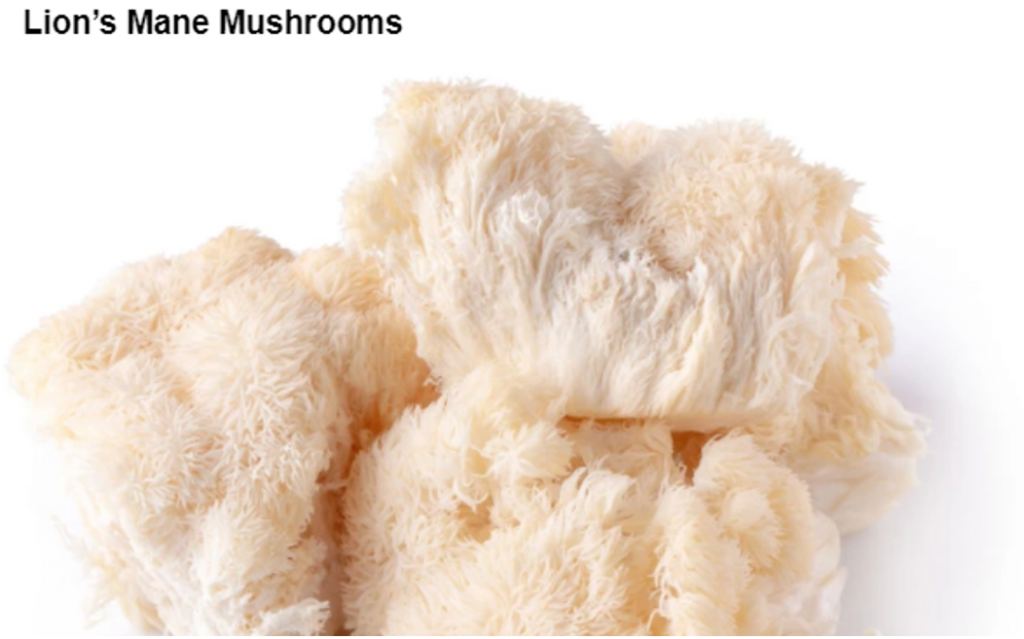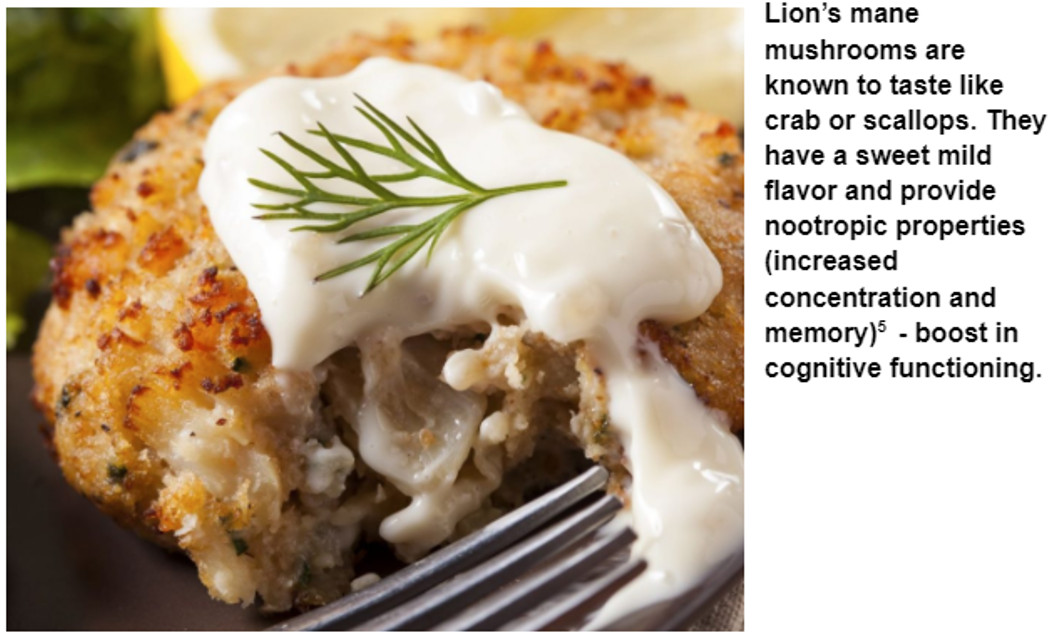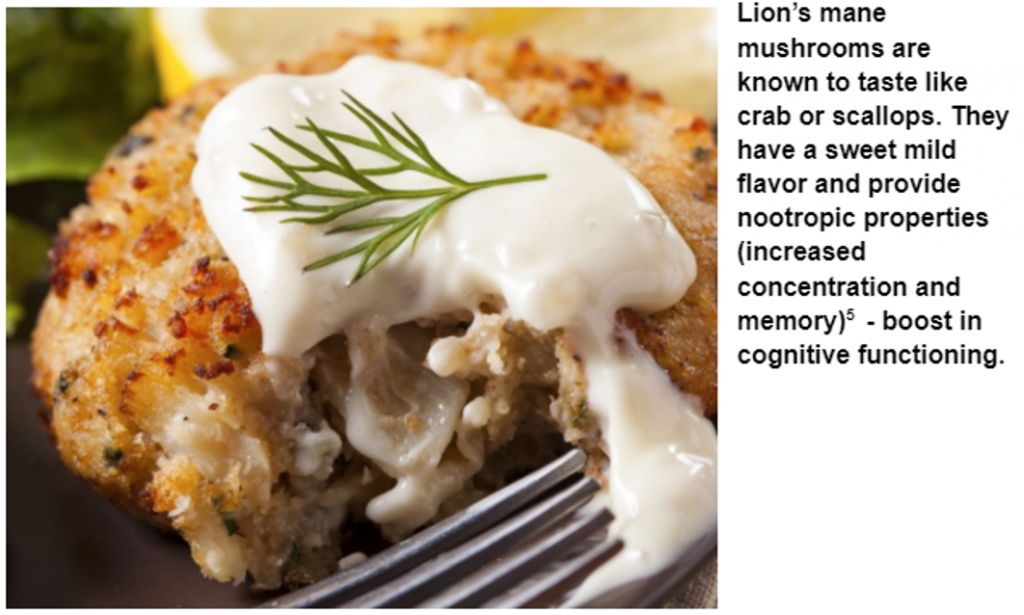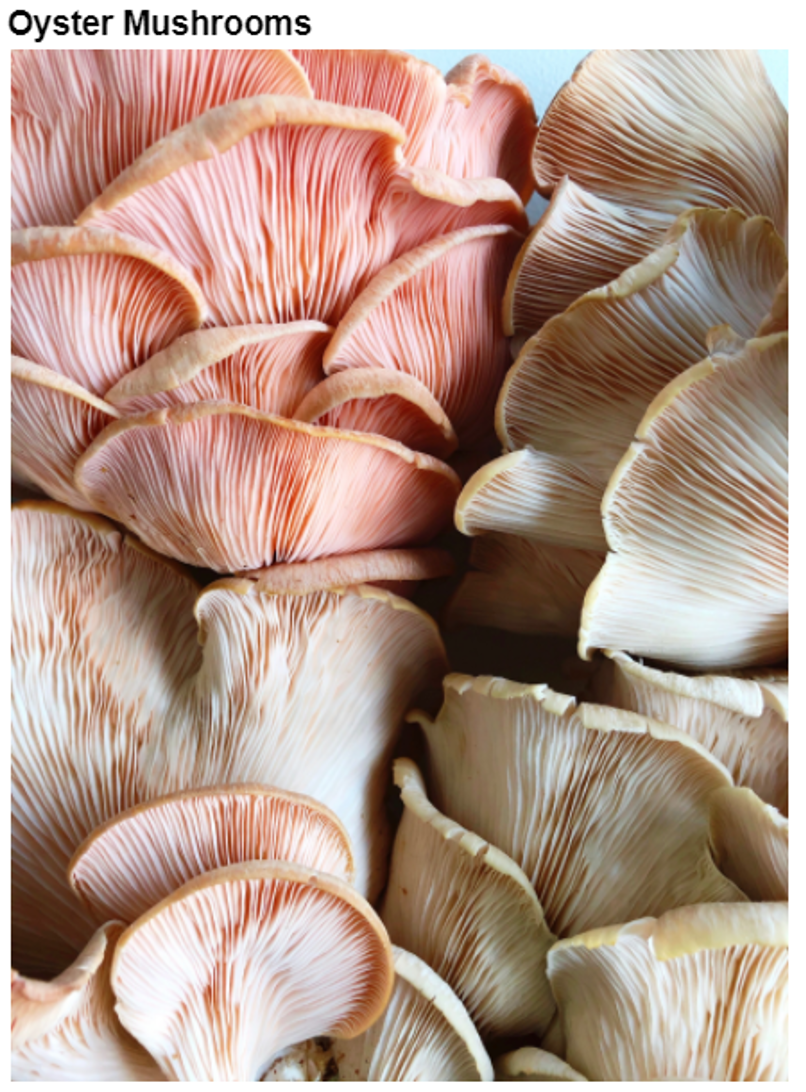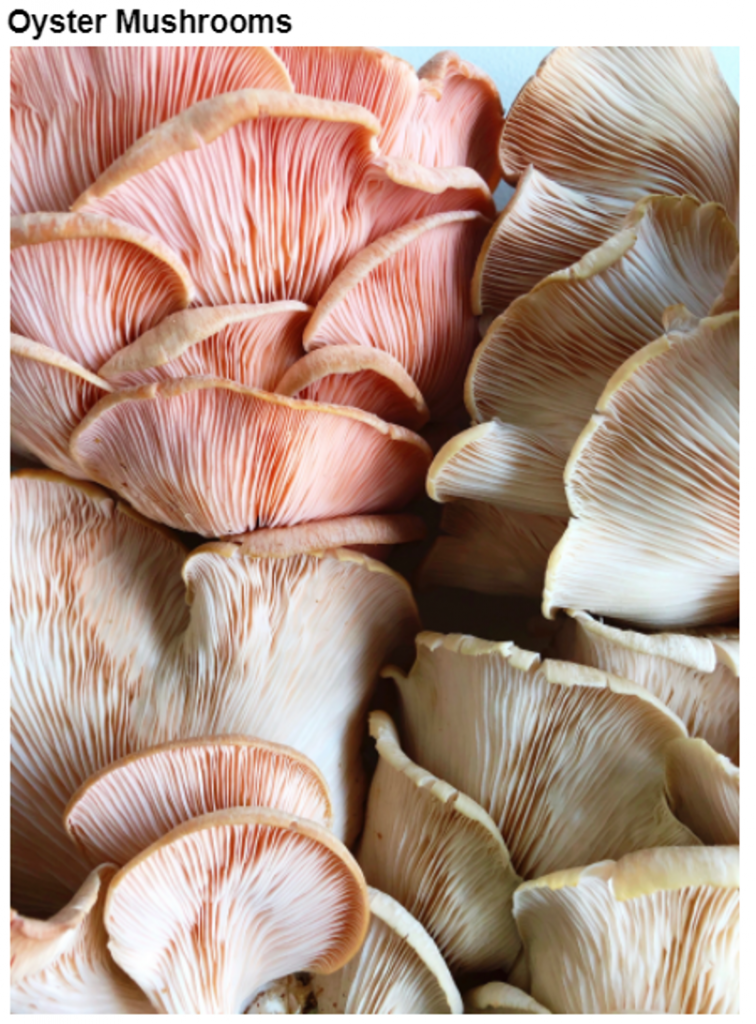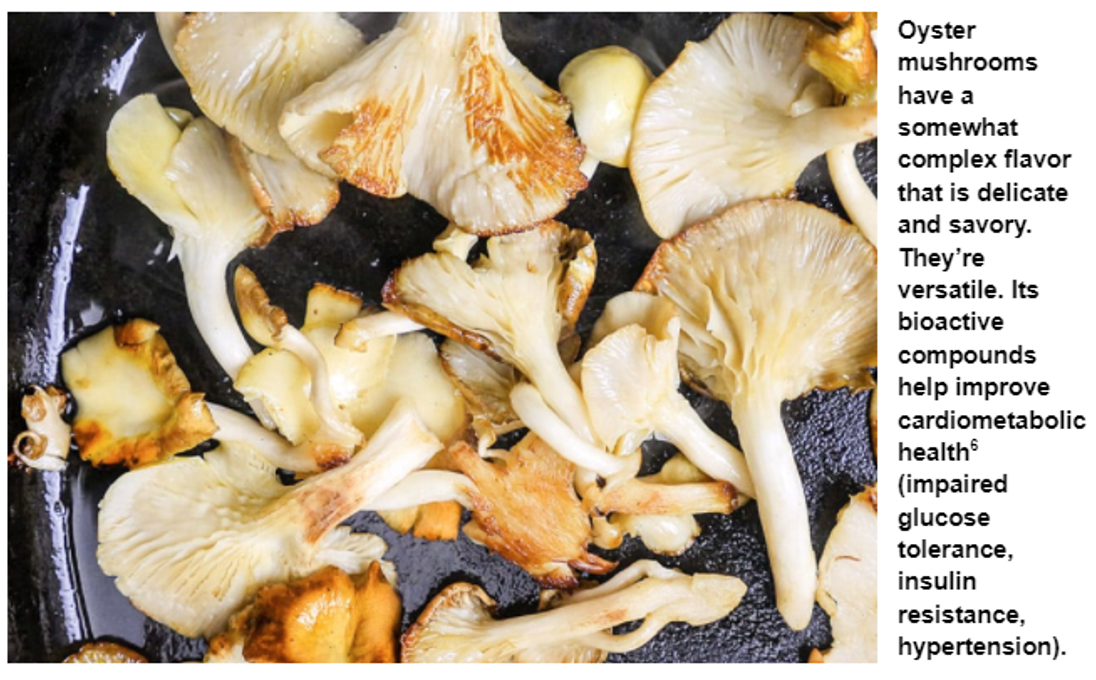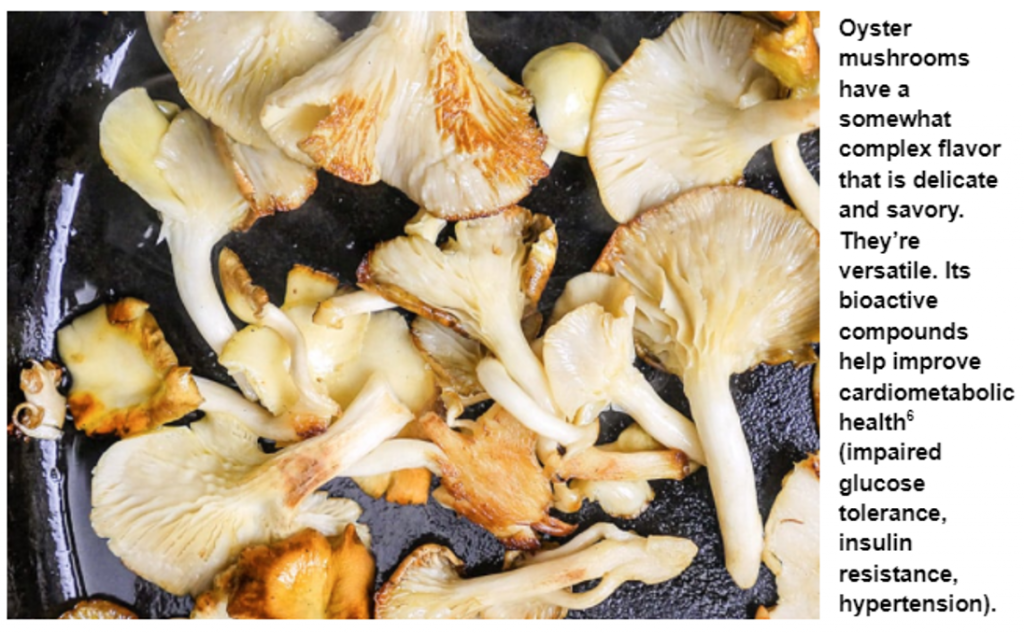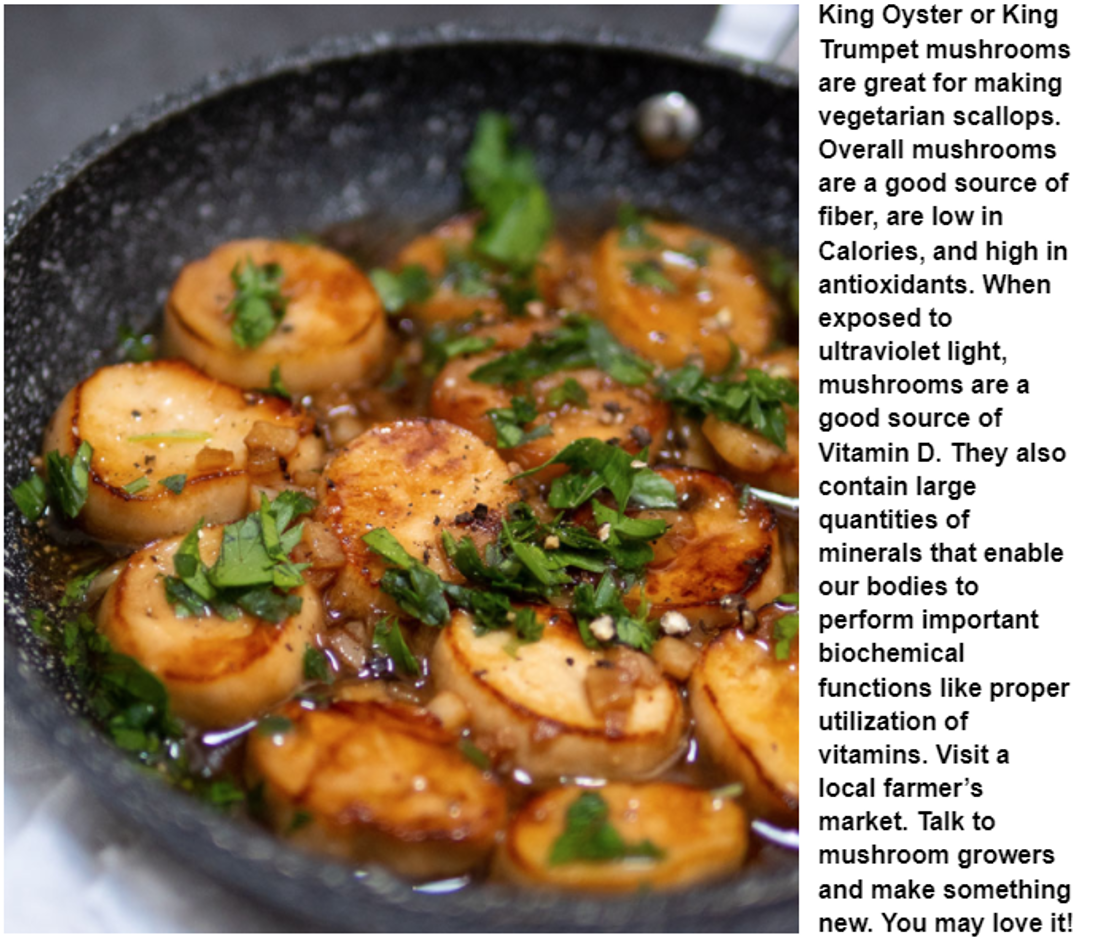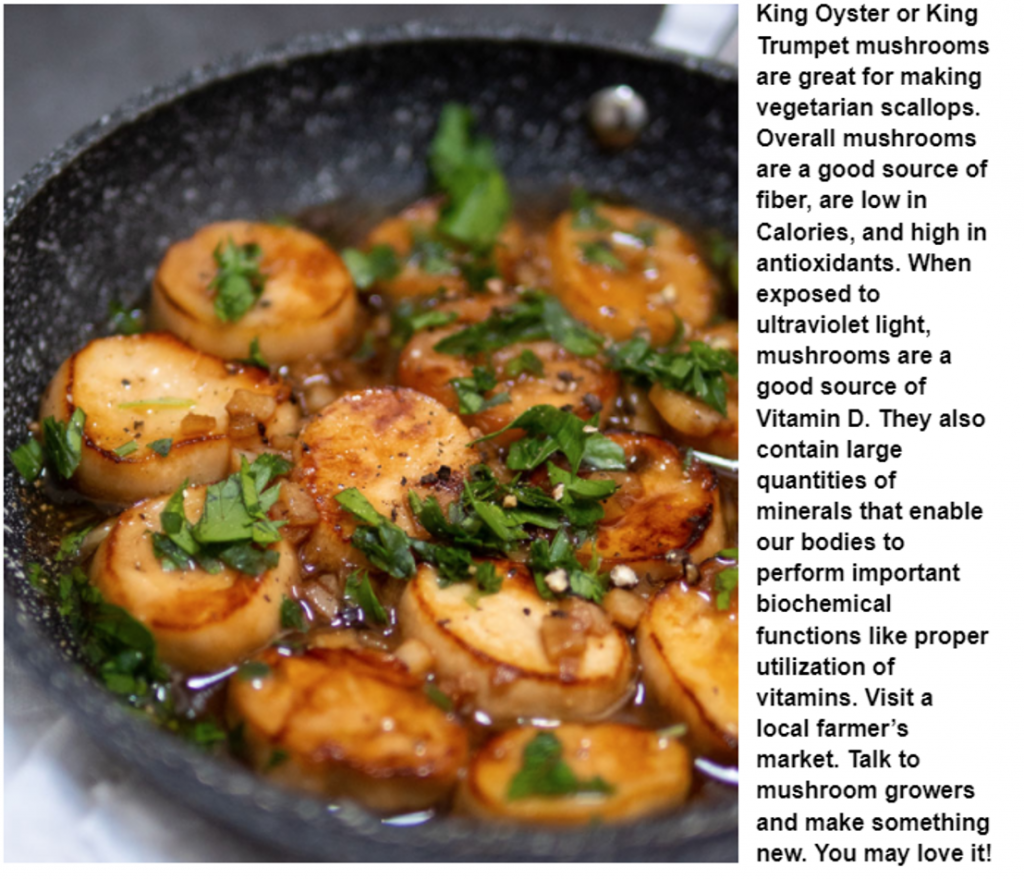 Make mushrooms at home. They are delicious! Experiment with a different variety. Learn how specific varieties are best prepared. Below are two recipes shared by Marisa Moore for Food & Nutrition Magazine. You can find blogs by Marisa at marisamoore.com. Marisa Moore, MBA, RDN, LD is a registered dietitian nutritionist, food blogger, and "go-to nutrition expert for the media"7.  Marisa switched her major from chemical engineering at Georgia Tech to study Nutrition. She used to work full time for the CDC and regularly appears in national media outlets. Marisa also is contributing editor to Food and Nutrition Magazine, a contributor to People magazine, and a blogger for US News & World Report and the Huffington Post.
Feel free to modify these shared recipes to your liking, you may try adding a skewer of grilled chicken or shrimp, corn, almond, or flour tortillas, homemade corn tortilla chips! A side of sweet herbed salmon, Spanish rice, black beans, tomatoes, basil, or any element that compliments these suggestions to your preferences. In addition to other nutrient content milligrams of potassium and phosphorus are provided for each recipe.
A group of researchers suggests variation in potassium consumption comprise a factor related to achieving weight loss8. Studies on the beneficial effects of potassium suggest intake lowers blood pressure and helps to regulate hypertension9. Phosphorus helps our bodies make adenosine triphosphate (ATP)10. That's the fuel our bodies convert carbohydrates to. Last week in the article How to Read a Nutrition label I shared carbohydrates are composed of starch, fiber, and glucose. Starch and glucose convert to ATP. Our cells use ATP as their currency for energy to help our bodies function. Weight loss is a hot summer topic. That said, to make your body use stored fat (beta-oxidation) you have to require your body to use more energy (Calories/ATP) than you consume (Caloric deficit). Recipes below:
Recipe Ideas (Source Food & Nutrition Magazine by Marisa Moore)
Jamaican Jerk Mushroom Lettuce Wraps with Papaya Salsa7
Developed by the Mushroom Council
These Jamaican jerk wraps with papaya salsa are a meal for the whole family to enjoy.
Ingredients
1 large head Boston lettuce
1 small onion, cut into 1/2-inch dice (divided)
1/2 jalapeño pepper, seeded and finely chopped
1 Tbsp. grated fresh ginger
1 lime, juiced
1 Tbsp. low-sodium soy sauce
7 1/2 tsp. olive oil (divided)
1 tablespoon maple syrup
2 teaspoons dried leaf thyme
1 1/2 tsp. ground allspice
1/4 tsp. cayenne pepper
3/4 tsp. ground nutmeg
1/4 tsp. ground cinnamon
12 ounces oyster mushrooms, cut into bite-sized pieces
4 ounces button mushrooms, halved
Papaya Salsa
1 large papaya, peeled, seeded, and coarsely chopped
1 Tbsp. chopped red onion
1 Tbsp. chopped red bell pepper
1 Tbsp. chopped green bell pepper
1/2  jalapeño pepper, seeded and finely chopped
1 tsp. chopped fresh cilantro
1 tsp. fresh lime juice
2 tsp. fresh orange juice
1/4 tsp. dry red pepper flakes
Directions
Place ingredients in a bowl and mix thoroughly. Cover and refrigerate until ready to use.
Remove 6 large lettuce leaves and set them aside. Coarsely chop enough of the remaining lettuce to make 1 1/2 cups; set aside.
Place half the diced onion, half of the jalapeño, ginger, lime juice, soy sauce, 1 tablespoon olive oil, maple syrup, thyme, allspice, cayenne, nutmeg, and cinnamon in a blender. Puree until well combined. Set aside.
Heat remaining 4 1/2 teaspoons olive oil in a large skillet over medium-high heat. Add mushrooms, remaining onion, and jalapeño; cook two to three minutes, turning often with a spatula. Stir in the onion and pepper puree and cook for one to two minutes or until fragrant.
Arrange lettuce leaves on a large serving platter. Top each with about 1/4 cup mixed greens, 1 tablespoon papaya salsa, and about 1/4 cup mushroom filling.
Nutritional Info
Serves 6
Serving size: 1 lettuce leaf, 1/4 cup mixed greens, 1 tablespoon salsa, and 1/4 cup mushroom filling
Calories: 106
Total Fat: 6g; Sat. fat: 1g
Chol.: 0g; Sodium: 105mg
Carb.: 11g; Fiber 2.5g; Sugars: 5g
Protein 3g; Potassium: 442mg; Phosphorus: 88mg
Recipe courtesy of the Mushroom Council. For more recipes, visit mushroominfo.com.
Masala Mushroom Brushetta7
Recipe developed by Alexandra Caspero
Ingredients
1 loaf sourdough baguette
1 clove peeled garlic
2 cloves garlic, minced
1 onion, thinly sliced
1 pound mushrooms (preferably a mixture of crimini, button and shiitake, but any kind will do)
2 Tbsp. olive oil
1/2 tsp. ground cardamom
1 tsp. ground cumin
1/4 tsp. ground cinnamon
1/2 tsp. red pepper flakes
1⁄8 tsp. ground coriander
1⁄8 tsp. ground cloves
1⁄8 tsp. ground nutmeg
1/2 cup vegetable broth
1/4 cup cilantro (for garnish)
Directions
Preheat oven to 400°F.
Slice the baguette into 1/2-inch slices. Place on baking sheet and toast each side for two to three minutes until golden brown. Remove from oven and rub with clove of peeled garlic. It will "melt" into the sliced bread. Do this for each toast point and set it aside for later use.
Heat a large skillet over medium heat. Add the olive oil, minced garlic, and onions. Cook for 10 minutes until onions start to turn golden brown. Add spices and cook, stirring constantly, about two minutes.
Add the mushrooms in an even layer and let cook for two minutes without touching them. Gently stir, flipping the mushrooms; do the same for the other side. They should be slightly brown and almost crispy on the outside.
Add 1/2 cup of the vegetable broth and let cook until most of the broth has been absorbed. If you need more, add it. There should be a little sauce with the mushrooms. Be sure to scrape the bottom of the pan as you stir to loosen any cooked bits of spice.
Top each toast with a scoop of the mushroom mixture. Garnish with chopped cilantro.
Nutritional Info
Serves 32
Serving size: 1 slice
Calories: 26
Total Fat: 1g; Sat. Fat: 0g
Chol.: 0g; Sodium: 36mg
Carb.: 3g; Fiber 0g; Sugars: 0g
Protein 1g; Potassium: 71mg; Phosphorus: 19mg
Alexandra Caspero, MA, RD, blogs at delicious-knowledge.com. Recipe used with permission.
South Carolina has great places to dine or buy mushrooms locally:
1050 Pharmhouse Lane
Pamplico, SC 29583
(843) 558-2632
Rebecca Goldberg
Jackson, SC
(843) 340-2848
17 Restaurant Cafe and Bar
10 Road of Vines
Travelers Rest, SC 29690
(864) 516-1254
Dozens of local farmers. Check for mushroom vendors at local farmer's markets across the state.
South Carolina Food Hub Network
–
Written and provided by Eminah Quintyne, a volunteer contributor to the 2021 Eat Local Challenge. Eminah is a food science professional with an MPH in health policy and management and BS in nutrition and food sciences. Eminah is on her way to becoming a Registered Dietician Nutritionist in 2021 and is assisting Lowcountry Local First with the Eat Local Challenge as part of her learning experience. Look for informative pieces from her throughout the challenge, spotlighting why local foods are often more nutritious.
–
References
What is umami? 5 facts about umami | Everything about umami | Umami Global Website | Ajinomoto Group Global Website – Eat Well, Live Well. (2021). Retrieved 12 June 2021, from https://www.ajinomoto.com/aboutus/umami/5-facts
Roberts A, Lynch B, Rietjens IMCM. Risk Assessment Paradigm for Glutamate. Ann Nutr Metab. 2018;73 Suppl 5(Suppl 5):53-64. doi:10.1159/000494783
Soares AA, de Sá-Nakanishi AB, Bracht A, et al. Hepatoprotective effects of mushrooms. Molecules. 2013;18(7):7609-7630. Published 2013 Jul 1. doi:10.3390/molecules18077609
Ciric L, Tymon A, Zaura E, et al. In vitro assessment of shiitake mushroom (Lentinula edodes) extract for its antigingivitis activity. J Biomed Biotechnol. 2011;2011:507908. doi:10.1155/2011/507908
Jayachandran M, Xiao J, Xu B. A Critical Review on Health Promoting Benefits of Edible Mushrooms through Gut Microbiota. Int J Mol Sci. 2017;18(9):1934. Published 2017 Sep 8. doi:10.3390/ijms18091934
Dicks L, Ellinger S. Effect of the Intake of Oyster Mushrooms (Pleurotus ostreatus) on Cardiometabolic Parameters-A Systematic Review of Clinical Trials. Nutrients. 2020;12(4):1134. Published 2020 Apr 17. doi:10.3390/nu12041134
Moore, M. (2021). Mushrooms: Taste of the Earth – Food & Nutrition Magazine. Retrieved 12 June 2021, from https://foodandnutrition.org/july-august-2013/mushrooms-taste-earth/
Tal B, Sack J, Yaron M, et al. Increment in Dietary Potassium Predicts Weight Loss in the Treatment of the Metabolic Syndrome. Nutrients. 2019;11(6):1256. Published 2019 Jun 2. doi:10.3390/nu11061256
Staruschenko A. Beneficial Effects of High Potassium: Contribution of Renal Basolateral K+ Channels. Hypertension. 2018;71(6):1015-1022. doi:10.1161/HYPERTENSIONAHA.118.10267
Chang AR, Anderson C. Dietary Phosphorus Intake and the Kidney. Annu Rev Nutr. 2017;37:321-346. doi:10.1146/annurev-nutr-071816-064607