Amplified Nutrient Density in Locally Grown Foods
Duke it Out Part Three: A Three-Part Series about the quality of locally grown fruits and vegetables vs. the other stuff and why it should matter to you
Written by Eminah Quintyne.
Known as an inexpensive and ordinary vegetable, okra is now chic.
If you have ever made it home through bad weather, (frigid wet cold, heavy rain in symphony with the weighted pounding of unbreakable thunder beneath the intermittence of silent lightning striking a well-lit sky), there is an immediate experience of relief. For many okra is a comfort food. It is among the experiences of simple things that bring peace to any place you call home.
The Duke It Out series is a collective of spirited narratives raising the flag full staff on why it's important to buy local. Make the choice to support farmers, and engage with your community. The "Oooh Awe" thing to remember is for all the nutrients your doctor or any credible source says you will gain or need from eating specific fruits and vegetables – You get the real deal (amplified nutrient density) if you buy them locally. We encourage you to buy your food off the vine (that's the definition of fresh!). Taste the difference. The other stuff (non-Local fruits and vegetables) as my mentor often says, "don't have a dog in the fight!". There really is no competition.
The role of an agriculture commissioner is to protect agriculture and the environment. Commissioner Hugh Weathers with The South Carolina Department of Agriculture came up with the idea to establish The Agribusiness Center for Research and Entrepreneurship (ACRE). Kyle Player is the Executive Director of ACRE. Kyle graduated from Clemson University with a Master of Science, in Parks, Recreation and Leisure Studies with a Focus in Youth Development, and a Bachelor of Applied Science in Parks, Recreation and Leisure Studies, with a minor in Activities and Societies: Business Administration. She has carried ties to agriculture all of her life. Kyle's dad and sister are fourth and fifth generation row crop farmers, and at seven years old Kyle knew how to drive a high boy.
"The distribution chain depreciates shelf life, buying local is less wasteful, less of a negative impact on the environment. You get more variety with local farms. At a farmer's market, there are more things you are not used to seeing or may have had before plus you get to connect with your community and learn from each other," said Kyle.
Okra made its way to the Americas around 1658 during the Atlantic slave trade. Its origin is in Africa and is believed to have been cultivated near Ethiopia in the 12 century. Okra is fairly easy to grow, and a warm weather crop that grows well in the south1. Use of okra has increased in popularity due to its health benefits, versatility, and capacity to compliment the artistry of chefs.
Joseph and his wife Helen Fields own and run Joseph Field's Farm and Market on Johns Island, in SC. Joseph is a certified organic farmer. He grows on a 50-acre farm, is a third generation farmer and has been farming most of his life. After being drafted to the army, and working as a Welder for General Electric he chose to farm. Joseph liked agriculture in school, enjoys making decisions on what to grow, helping customers, talking to people, answering their questions, and having the ability to offer the public what they need. He says he spends a good deal of time discussing how he gets his crops and how certain fruits and vegetables grow. He loves making sure his customers are happy and is currently growing Clemson Spineless, and red okra.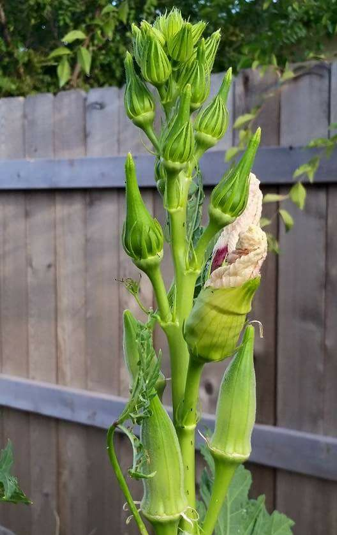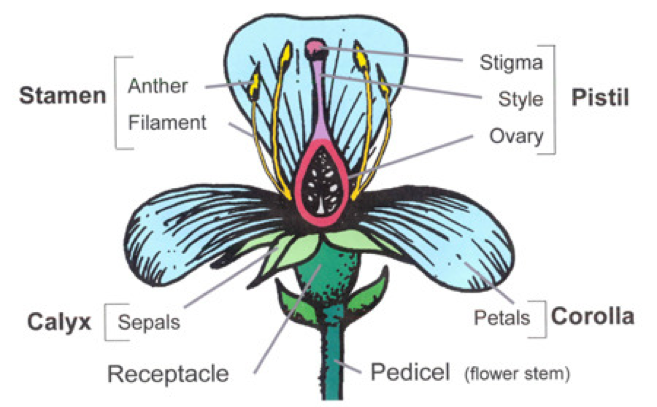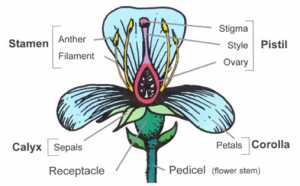 "Buy local, fresh stuff that is not refrigerated for a long time. It has a better taste when it is not refrigerated for a long time. Support the community. Support the local farmers, they need your help," said Joseph.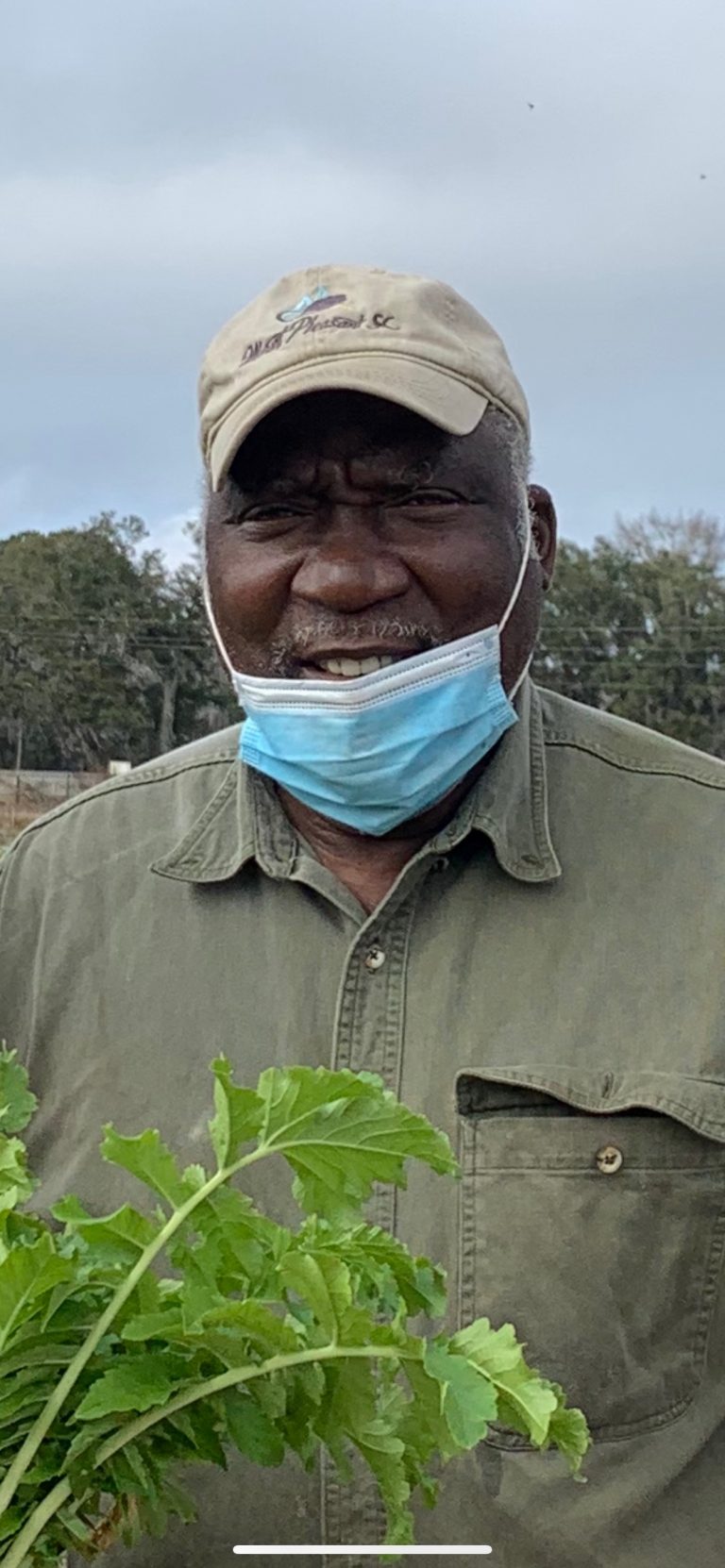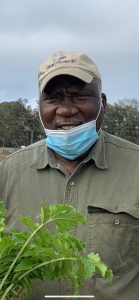 Okra is in the Mallow family with hibiscus, cotton, and cacao, is classified as fruit, but used as a vegetable, and actually starts out as a flower [see images]. The calyces [see images] portion of the flower swallow the petals, engulfing them into what looks like a swirled cocoon that then grows into okra. The outer portion of okra is known as the fleshy fruit or pericarp. Pericarp is formed by the walls of the ovary of the flower. The whole okra plant is edible; however, the immature pods have a unique taste and are what is traditionally used2. Most farmers harvest (cut) their okra at about three inches or less. Matured okra is dense and has a wood-like taste.
There is a direct association between human health and food and nutrition3. Research studies have shown okra contains bioactive compounds such as vitamin C, carotene, thiamine, folic acid, riboflavin, oxalic acid, niacin, and amino acids2. Okra pods are cited to be good sources of minerals (K, Ca, P, and Mg) and very low in cholesterol and saturated fats. Minerals are significant because they allow our bodies to absorb specific vitamins2. For example, our bodies need magnesium to absorb Vitamin C.
A research review concluded 13 of 16 studies reported a positive change in gut microbiota, related to okra consumption3.Okra is high in dietary fiber meaning it contains soluble (dissolves in water), and insoluble (does not dissolve in water) fiber4. Soluble fiber turns into what is described as a gel-like substance in the gut and is kind of like ice skating in that it helps stool to slide and glide its way out. Insoluble fiber turns your stool into a plumber because it attracts water into stool (creating bulk) allowing bowel movements to pass through the colon while sweeping up just about anything else hanging around the colon on its way. Fiber cannot absorb into the bloodstream like other nutrients4. Fiber comes in and goes out. It is good for you because it benefits your gastrointestinal tract (GI). Your GI tract is a part of your digestive system. Your digestive system includes the mouth, esophagus, stomach (gut), small and large intestines (gut), anus, pancreas, liver, gallbladder4 etc. When GI health is impaired your GI system will not work effectively. This could mean inflammation, irregulated metabolism (flawed release of hormones that tell your thyroid gland what to do when processing how to use energy from food) or a compromised ability to absorb nutrients. The health of your gut can alter the health of your whole body.
Consuming foods high in dietary fiber impact your bowel movements, and works to protect your GI system and overall health. There are trillions of bacteria and other microorganisms in the gut that need to be kept happy and in harmony. The bacteria and microorganisms in the gut feed off fiber or whatever else may be left within the lumen of the colon. Fiber and fermented (kombucha, wine etc.) foods are good for gut health because gut bacteria like to feed on them and may produce healthy by-products like (short chain fatty acids) from doing so which the gut likes4. Research state extracts of young okra pods display moisturizing and diuretic properties, and its seeds possess anticancer and fungicidal properties5.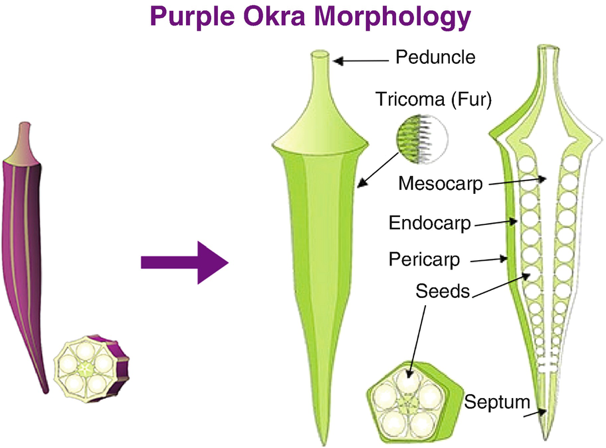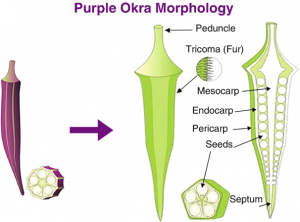 Okra gums are used as thickeners and flavoring for different foods6. As a comfort food, okra is a popular in gumbo, fried, sautéed and prepared in many other ways.
"My all-time favorite is pan-fried okra just like my Mom and Grandma have made my whole life. It's not the heavily breaded, deep-fried stuff that most people know but just put a little oil in the bottom of a skillet, chop up your okra, dust it with a little flour/cornmeal, seasoning, and try not to stir it too much. One of my favorite plates is pan fried okra with a big sliced beefsteak tomato and scrambled eggs. It's so versatile. I'm always trying to come up with new dishes," said Blake of Crosby Gardens.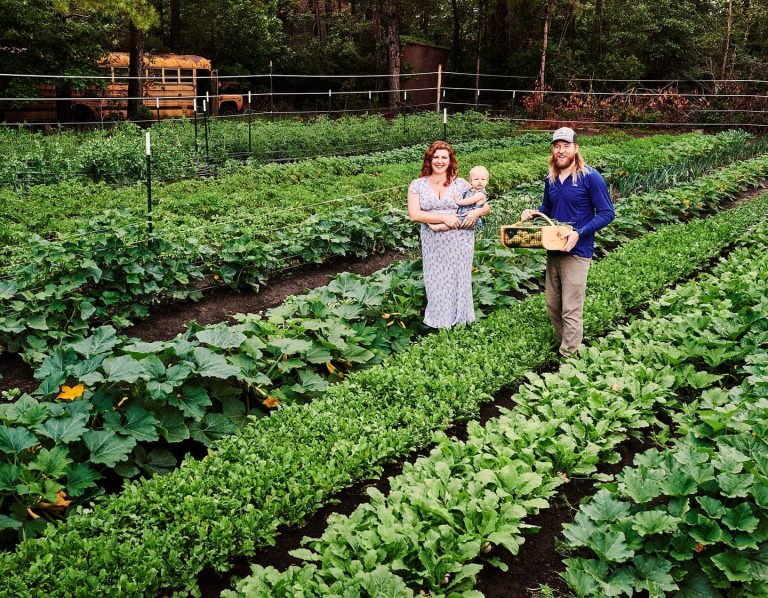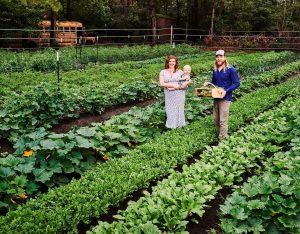 Blake attended the College of Charleston for Business Administration. He lived in California spending many days surfing, is an entrepreneur, photographer and farmer. His farm is called Crosby Gardens. Blake grew up gardening with his dad and two grandfathers, and acquired a true appreciation for the taste of homegrown vegetables, and farm land. He comes from a warm and loving family that took the time to pass on values and lessons learned from one generation to the next.
"Local produce is the best produce. You're getting flavorful, nutrient-dense food that is grown in season, has a significantly smaller carbon footprint, and lasts so much longer in storage. Not to mention you're helping to support a local economy," said Blake.
Okra is in season and widely available across the state. Researchers report – the seeds of the okra plant are a rich source of oil. Linoleic acid, a well-known polyunsaturated fatty acid (PUFA), makes up 20 to 40% of the total composition of oil in an okra seed6. PUFA's can help to lower low-density lipoproteins (LDL, cholesterol) 6. LDLs are bad fats that may contribute to heart disease. They are bad because they can create arterial plaque. Arterial plaque makes is harder for blood to flow, supply the body what it needs, and can thus contribute to heart disease.
Generally speaking, heart disease means there is a barrier to your blood flow found among your blood vessels (arteries, veins, capillaries). To visualize arterial plaque – think of a straw in a glass of unsweetened tea J. Now imagine the straw has mini mountains like tiny islands splattered up and down the length of the straw and glued to its curved circumference. You will not get the same amount of tea in one gulp as you would if the straw where clean (without the mini mountains). Straw is analogous to your blood vessels. Think about it.
Kyle is responsible for delegating over half a million dollars in grant funds each year to South Carolina's Agribusiness. She oversees the funding and operations of the South Carolina Food Hub Network (SCFHN), and her first priority is to help South Carolina farmers, create jobs, and boost the local economy. She finds and secures federal grants to support ACRE's programs playing a big role in the development and implementation of varied workshops throughout the state that assists up and coming farmers and agricultural entrepreneurs.
ACRE increases agribusiness in the state and is earmarked to receive special appropriated funds to sustain success. As Executive Director, Kyle is astute and says she structures ACRE in her image.
"Agribusiness is the biggest business in South Carolina. We give money to support Agribusiness across the state and work to fix industry challenges," said Kyle.
There is good news for resident farmers and for anyone in the state aspiring to become an entrepreneur in the agribusiness space. Currently, every Fall and Spring ACRE offers an introductory and advanced training course. The course curriculum is structured around business development and is taught by the Clemson Agribusiness Extension Program Team.
As a participant, you gain knowledge, business mentoring, elevated business skills to run a profitable operation, and the opportunity to pitch your business to a panel of judges to compete for funding. Judges are hand-picked many of which offer business coaching and are investors themselves.
The Agribusiness Planning Curriculum is the official name of the introductory course. It takes place in the Fall. This course positions farmers to build a strategic business plan catering to early-stage development; those who may not know where to start and farmers seeking to grow their business. Five $5K grants are awarded to standout competitors.
The Advanced Entrepreneurship program is an advanced course that takes place in the Spring. This course is promoted as ACRE's flagship program and is for active agricultural entrepreneurs with a business, business plan, existing product, or prototype. Awardees in the advanced program receive up to $25K in grant funding.
These programs are free, described as concrete, and competitive. ACRE says spots are limited. To request an application contact Kyle Player at kplayer@scda.sc.gov.
Boxcar Betties is located in South Carolina, Charlotte, and Chicago. They are famous for their grilled and fried chicken breast sandwiches and use local produce in a few menu items. Joseph Fields sells potatoes, cabbage, cucumbers, and tomatoes to Boxcar Betty's located in the West Ashley area of Charleston, SC. Joseph makes most of his sales from Farmer's Markets, plants crops in different stages, plants something different every season, and right now he is picking tomatoes, green beans, and squash for his market sales and for Community Supported Agriculture (CSA).
Summer CSA boxes include cabbage, collards, kale, turn-up bottoms, pickles, tomatoes, and surprise options that are in season. Year-round it is $35.00 for a 15lb Box with in-season produce. CSA boxes are available upon request, and at every farmer's market Joseph Fields and his team frequent. Joseph gives customers the option to create their own box, or modify boxes with less of something and more of another.
Joseph Fields is a member of the Gullah Farming Cooperative (GFC). The GFC is a cooperative of approximately 17 farmers across St. Helena, Johns Island and in between that independently and collaboratively sell produce. Harvest from farmers of the GFC may now be found in Growfood and through the South Carolina Food Hub Network (SCFHN).  You will find produce from Joseph Field's Farm at:
The Savannah Farmer's Market on Saturdays from 8 am – 1 pm year-round
The Charleston Farmer's Market on Saturdays from 8 am – 1 pm April – December
The Park Circle Farmer's Market in N. Charleston from 3pn – 7 pm May – October
Freshfields Village Farmer's Market in Kiawah Island Mondays from 3 pm -7 pm
ALL produce is picked the day before or that day
Contact Joseph at:
Joseph Fields Farm and Market
Market Hours: Tuesday – Saturday 9 am – 5 pm
3129 River Road
Johns Island, South Carolina
29455
Fieldsfarmllc@Bellsouth.net
(843) 729-9606
Joseph says his red okra turns green when cooked but tastes good raw. His personal favorite is fried okra and Perloo.
"My wife cooks our okra in Perloo. She makes it with sausage, shrimp, ham, and bacon," said Joseph.
Perloo is very similar to jambalaya or dirty rice. It is steamed rice cooked in a seasoned broth made from onions, tomato, celery, garlic, and other spices. Perloo is mixed with everything from shellfish, bacon, ham, chicken, sausage, and more.
Blake's farm is located in Bluffton, SC. Okra is one of his favorite vegetables. Blake uses organic farming practices, grows high yield crops, and knows how to pick produce when it's just right.
"I'm growing multiple heirloom varieties this year. Japanese pink okra, a light green Turkish variety, a Sea Island red, and a couple of other varieties that some small farmers have stewarded and improved upon for years. I've also got my own variety that I started saving last year that will be a fun landrace breeding project," said Blake.
Crosby Gardens is certain to have great surprises in store. Blake will relaunch his farm in a few months. You may buy from Crosby Gardens online at  crosbygardens.com, and find him on Instagram @crosbygardens.
References
Elkhalifa AEO, Alshammari E, Adnan M, et al. Okra (Abelmoschus Esculentus) as a Potential Dietary Medicine with Nutraceutical Importance for Sustainable Health Applications. Molecules. 2021;26(3):696. Published 2021 Jan 28. doi:10.3390/molecules26030696
Romdhane MH, Chahdoura H, Barros L, et al. Chemical Composition, Nutritional Value, and Biological Evaluation of Tunisian Okra Pods (Abelmoschus esculentus L. Moench). Molecules. 2020;25(20):4739. Published 2020 Oct 15. doi:10.3390/molecules25204739
Myhrstad MCW, Tunsjø H, Charnock C, Telle-Hansen VH. Dietary Fiber, Gut Microbiota, and Metabolic Regulation-Current Status in Human Randomized Trials. Nutrients. 2020;12(3):859. Published 2020 Mar 23. doi:10.3390/nu12030859
Romdhane MH, Chahdoura H, Barros L, et al. Chemical Composition, Nutritional Value, and Biological Evaluation of Tunisian Okra Pods (Abelmoschus esculentus L. Moench). Molecules. 2020;25(20):4739. Published 2020 Oct 15. doi:10.3390/molecules25204739
Durazzo A., Lucarini M., Novellino E., Souto E.B., Daliu P., Santini A. Abelmoschus esculentus (L.): Bioactive Components' Beneficial Properties-Focused on Antidiabetic Role-For Sustainable Health Applications. Molecules. 2018;24:38. doi: 10.3390/molecules24010038
Alamri MS. Okra-gum fortified bread: formulation and quality. J Food Sci Technol. 2014;51(10):2370-2381. doi:10.1007/s13197-012-0803-z
 Savello P.A., Martin F.W., Hill J.M. Nutritional composition of okra seed meal. J. Agric. Food Chem. 1980;28:1163–1166. doi: 10.1021/jf60232a021.
Written and provided by Eminah Quintyne, a volunteer contributor to the 2021 Eat Local Challenge. Eminah is a food science professional with an MPH in health policy and management and BS in nutrition and food sciences. Eminah is on her way to becoming a Registered Dietician Nutritionist in 2021 and is assisting Lowcountry Local First with the Eat Local Challenge as part of her learning experience. Look for informative pieces from her throughout the challenge, spotlighting why local foods are often more nutritious.