Amplified Nutrient Density in Locally Grown Foods
Duke it Out, Part Two: A Three-Part Series about the quality of locally grown fruits and vegetables vs. the other stuff and why it should matter to you
Written and provided by Eminah Quintyne, a volunteer contributor to the 2021 Eat Local Challenge. Eminah is a food science professional with an MPH in health policy and management and BS in nutrition and food sciences. Eminah is on her way to becoming a Registered Dietician Nutritionist in 2021 and is assisting Lowcountry Local First with the Eat Local Challenge as part of her learning experience. Look for informative pieces from her throughout the challenge, spotlighting why local foods are often more nutritious.
–
Sweet strawberries, savory strawberries, strawberry candles, shortcake, the Strawberry Museum in Belgium — where to begin, at scrumptious maybe?
It is awe-inspiring to think about the many foods that grow from the earth. Before discussing what a strawberry can do for you, remember the local strawberry will always checkmate the other stuff. In the game of Chess, when a player puts their opponent in checkmate the opponent's King chessmen (piece) is immobilized, threatened by danger, and its game-over.
The nutritional value you gain from a local strawberry supersedes what a non-local strawberry can do for you. Not to mention local strawberries are rich in bursting flavor and vibrant in color throughout the fruit. You can see and taste the difference. The message is to eat fruits and vegetables rather quickly after it is cut or picked from the source. Nutrients in food are lost or put in danger with travel, varying temperatures, and extended refrigeration1. According to research, when fruits are required to travel long distances nutrients are lost between harvest and consumption1. Fruits and vegetables typically contain over 90% water and once they are harvested, the rate at which they need oxygen increases, moisture decreases, and the overall quality degrades rapidly2.
Buying local eliminates elongated travel and puts you closer to your food at the source. It is important to ask yourself, "where does my food come from?" Luckily in South Carolina, there are a lot of options for us.
Jackie Frazier runs Barefoot Farms on St. Helena Island in South Carolina. He is a member of the Gullah Farming Cooperative and has been a farmer his whole life (since he could walk!). If you ever meet Jackie, you will notice he has presence. He is no-nonsense, compassionate, and a serious man. The pages of history turn ever so slightly in the gaze from his eyes. Through his stance, it's evident he lives to tell a story. Jackie's skin is resilient, enlivened. It has a red hue to it like clay that seems to connect him to the soil and the earth in a special way. Growing up Jackie worked on his father's farm in Allen Dale country and named his farm Barefoot because as a child he never liked to wear shoes. When asked why his strawberries taste better Jackie calm and seriously said, "We grow with toe jam. Barefoot. We don't wear shoes! I had eight sisters. They needed shoes, but the boys didn't need any shoes. The girls needed shoes because they couldn't catch a husband without them."
Did you crack a smile? I did. Jackie went on to say, "We grow sustainably and offer food you don't have to be afraid to give to your children or grandchildren. We don't grow for high production. We grow a quality that's safe to eat and the best we believe. It's like two people baking a cake. Each cake will turn out differently. It's the growing or cooking skills that make a difference. We put a lot of effort into what we grow."
Because their tiny black seeds are nested along the outside of the fruit, strawberries are technically not classified as berries. Berries are identified as berries because their seeds are on the inside of a fruit3. The seeds on the outside of a strawberry can grow into new plants, however, much of strawberry reproduction is accomplished by runners.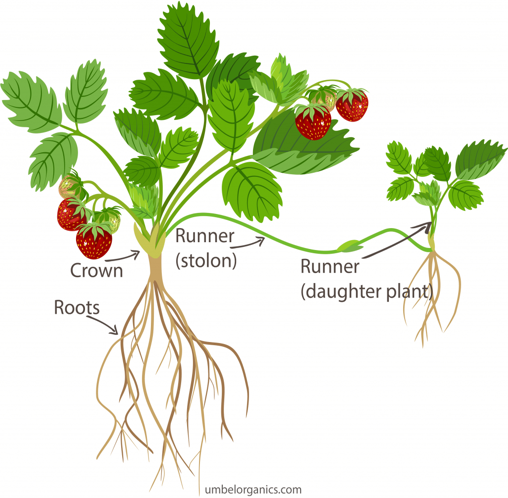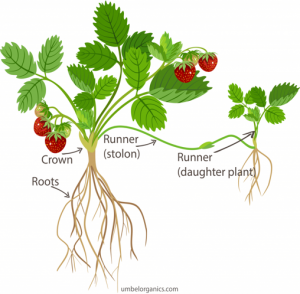 If you like to tinker with gardening or experiment with potted plants strawberries come with fun facts. Runners are widely known as stolons and are a vine (see image) that grows from the root of a strawberry plant. They shoot up from the root, then turn in any direction north, south, east, or west, and grow horizontally. Once runners grow nodules (what looks like tiny white marbles) you can cut them from the root and use them to grow a new strawberry plant. If left on their own runners will take root and reproduce.
Runners are a reproductive strategy of the strawberry plant. They are intentional and a little mysterious. Runners propagate (breed) the earth in what seems best characterized as a kind of destiny for eternal life. They do absorb a lot of energy and are better to remove to encourage any strawberry plant to bear more fruit.
Jackie has a knack for growing. He uses inherent ability along with books and online resources to study products before use and to research best growing techniques.
"It's better to go wherever you can get local food. Go to a local farmer that has produce that's been picked the same day. Fresh fruits and vegetables taste better if eaten within hours of being picked. When you don't eat fresh-picked produce immediately, each day away from the vine deteriorates the product," said Jackie.
Strawberries are the most widely cultivated fruit crop in the world4, a warm-weather crop, members of the rose family, and are very familiar. They are known to be sweet, refreshing, and carry remarkable health benefits. Ripe strawberries stimulate an increased content of ascorbate (Vitamin C)5. Vitamin C is an antioxidant and an essential water-soluble micronutrient in humans that can only be obtained through diet 5. [See antioxidant exert in Local kale vs. Non-local Kale article].
Method of preparation may alter the bioavailability of Vitamin C.6 Research states the bioavailability of dietary vitamin C represents the proportion of the micronutrient that is absorbed by the intestines and is available for metabolic processes within the body7. There is 60 mg of Vitamin C per 100g of strawberries9. Strawberries are best eaten raw. Exposure to high heat diminishes Vitamin C. Because Vitamin C is water-soluble (needs water to dissolve) it will only stay in your body for a limited time. It is readily excreted through urine, so it is a good idea to obtain Vitamin C in your daily diet.
The beneficial health effects of Vitamin C are protective effects against chronic diseases, such as cardiovascular disease, cancer, Alzheimer's, and other disorders8. Vitamin C also helps to synthesize collagen. Collagen is a protein that adds elasticity and structure to your skin. Our bodies produce less collagen as we age causing skin to be less taunt or firm. According to research studies anthocyanins (a compound with antioxidant effects) in strawberries may be one of the primary bioactive compounds in improving dyslipidemia. Dyslipidemia occurs when blood lipids indicate there is a high amount of triglycerides (bad fats) and low high-density lipoproteins (good cholesterol)9. If you get a blood lipid panel from your doctor some of these facts may come in handy.
In general, strawberries are characterized by their large quantities of nutritive compounds, including minerals, vitamins, and dietary fiber.8 They are a great source for potassium. The high composition of Vitamin C and low glycemic index make the health effects of strawberries compelling. For adults one serving of strawberries meets recommended daily amounts of Vitamin C.
Bonita Clemons is a member of the South Carolina Food Hub (SCFH). She participates as the co-founder of Axiom Farms Cooperative. The SCFH has been funded by USDA Specialty Crop Block Funds and is supported by the South Carolina Department of Agriculture. It is a state network of select and varied business entities that range from specialty grocery stores to distribution centers that deliver and sell local produce across the state. The essence of their mission is to work stronger together, expand capacity, increase economic growth, and provide resources and educational opportunities for local farmers. The impact of such collaboration is what makes this organization significant.
Axiom is operated by Bonita and co-founder Keith Alexander. Keith taught history and math as an elementary school teacher, grew up on a farm in Newbury, SC, and always wanted to be a farmer. Axiom exists to increase awareness of the value of local food and to support the economic stability of black farmers in the Midlands of South Carolina.
The cooperative is a dynamic concept conducting itself as a food hub and as Rare Variety Café. Rare Variety is a boutique grocery store and vegan café. It will re-open in August of this year at a new and exciting location further advancing the opportunity for farmers to utilize an outlet for sales.
Bonita Clemons also runs a health and wellness company called Bonita's Hibiscus and Ginger tea. She too grew up on a farm plucking tomatoes and eating them. Her grandfather was a farmer and saw to it they ate fresh fruits and vegetables every day.
"We can heal ourselves through food. After a car accident, fresh food saved my life and turned my life around. I know the importance of local food because that's what I sought in my healing process. Buying local fruits and vegetables is good for farmers, people, and the environment. It's a win-win. If everything that could go in my mouth was local that would be a perfect life for me," said Bonita.
According to Jackie of Barefoot Farms, fresh food means you're not putting anything into it to extend shelf life which Jackie says actually cuts life out of the food.
"Anytime a produce item is picked it starts deteriorating. If the food doesn't rot. Don't eat it," said Jackie.
Bring a basket or grab one when you get there. Barefoot Farms is open to pick strawberries from 10 am to 6 pm seven days a week until the heat knocks the strawberries out.
Barefoot Farms is located at:
939 Sea Island Parkway
St. Helena, SC 29920
Jackie can be reached by phone at (843) 592-1903.
It's worth it to find local food sources and get creative in the kitchen. Bonita likes to dance to the beat of her own drum and like many enjoys being innovative in the kitchen. During the summer one of her favorites is her strawberry and spinach salad. She uses local fresh spinach leaves, red onions, walnuts, and feta.
"I make my own dressing. I add fresh strawberries to a blender, olive oil, liquid amino acids, and apple cider vinegar." Said, Bonita.
After spending time conducting health screens Bonita concluded Hibiscus and Ginger chose her.
"That day everyone one had high blood pressure. I cried and thought it doesn't have to be this way. I used to frequent a Jamaican restaurant and learned about Sorrel Hibiscus. I worked with a professor at the University of South Carolina to collect research that proves Sorrel helps to lower blood pressure."
Bonita's Hibiscus and Ginger Tea is bottled and is offered in earth, wind, and fire varieties. Her tea can be found in Garner's Natural Life in Lexington and Columbia South Carolina. For questions or to learn more contact Bonita at Bonita@Bonitaglobal.net.
As it has been said color your plate. Local matters, variety matters, quality matters. If you're the everyday shopper, a restaurant or educational institution – find a local farmer, CSA, or member of the SCFHN and buy local. The quality of what you provide will be elevated. Research proves it, farmers will tell you the truth, and your taste buds won't lie. Try something new!
When faced with buying fruits and vegetables in the grocery store Jackie said rather than buying vegetables off the shelf he looks for flash frozen goods.
"I trust flash-frozen produce specifically flash-frozen because it's produce that is frozen on the same day within hours of being picked. A lot of produce you may find on shelves start wilting after four days".
—
References:
Barrett D. Maximizing the Nutritional Value of Fruits and Vegetables. Food Technol. 2007;61:40–44.
Doi K, Nozaki R, Takahashi K, Iwasaki N. Effects of the Number of Seeds per Berry on Fruit Growth Characteristics, Especially on the Duration of Stage II in Blueberry. Plants (Basel). 2018;7(4):96. Published 2018 Nov 3. doi:10.3390/plants7040096
Whitaker VM, Knapp SJ, Hardigan MA, et al. A roadmap for research in octoploid strawberry. Hortic Res. 2020;7:33. Published 2020 Mar 15. doi:10.1038/s41438-020-0252-1
Cruz-Rus E., Amaya I., Sánchez-Sevilla J. F., Botella M. A., Valpuesta V. (2011). Regulation of L-ascorbic acid content in strawberry fruits. J. Exp. Bot. 62 4191–4201. 10.1093/jxb/err122
Whitaker VM, Knapp SJ, Hardigan MA, et al. A roadmap for research in octoploid strawberry. Hortic Res. 2020;7:33. Published 2020 Mar 15. doi:10.1038/s41438-020-0252-1
Fenech M, Amaya I, Valpuesta V, Botella MA. Vitamin C Content in Fruits: Biosynthesis and Regulation. Front Plant Sci. 2019;9:2006. Published 2019 Jan 24. doi:10.3389/fpls.2018.02006
Englard S., Seifter S. The biochemical functions of ascorbic acid. Annu. Rev. Nutr. 1986;6:365–406
Miller K, Feucht W, Schmid M. Bioactive Compounds of Strawberry and Blueberry and Their Potential Health Effects Based on Human Intervention Studies: A Brief Overview. Nutrients. 2019;11(7):1510. Published 2019 Jul 2. doi:10.3390/nu11071510
Basu A, Fu DX, Wilkinson M, et al. Strawberries decrease atherosclerotic markers in subjects with metabolic syndrome. Nutr Res. 2010;30(7):462-469. doi:10.1016/j.nutres.2010.06.016
Afrin S, Gasparrini M, Forbes-Hernandez TY, Reboredo-Rodriguez P, Mezzetti B, Varela-López A, Giampieri F, Battino M. Promising Health Benefits of the Strawberry: A Focus on Clinical Studies. J Agric Food Chem. 2016 Jun 8;64(22):4435-49. doi: 10.1021/acs.jafc.6b00857. Epub 2016 May 31. PMID: 27172913.